Robotics Printer
Partner Beyond technolgy

> Solution > Robotics Printer
RFID check with standard characters, printed logo, and stable sample
Pime _C
- There is stability against chemicals because special ink is used.
- Printing is not deleted or discolored along with the lapse of time.
- Each cassette and slide can easily be identified because they are permanently stored in the depository.
- Link to PC eliminates errors caused by wrong description or false identification or change of numbers by user error.
- There is automatic tracking by adding barcode and Pime_C.
- The number of group cassettes and slides on the unload tray can be kept in the right order.
Automation
There is stability against chemicals because special ink is used.
High Capacity
A quantity of trays can be used for a lot of work. Minimum maintenance is needed during operation.
There are1,2000 cassettes and 900 standard slides.
High Speed
Do not waste your precious time just waiting for your turn. Time System secures 15 cassettes per minute at a stable speed (batch printing) and 14 slides per minute
Maintenance Cost Reduction
Ink cartridges can print up to 60,000 cassettes
Easy to use
The printer is independently used or integrated with a PS system.
RFID(Radio-Frequency Identification)
Object identification was the problem that users were worried about up to now. Now,
object identification is improved by securing the system to clearly identify an object between the cassette and the slide by using the memory cassette.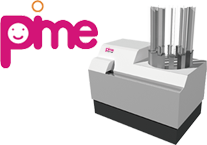 Patent No. 10-1059462
Intelligent Human Body Embedding Intelligent Cassette
Recognition System using RFID Tag
Design Registration No. 30-0607125 Memory
Cassette for Tissue Sample
You can concentrate on other work during cassette and slide embedding by quick and effective display.Pime-C contin uously produces cassettes and slides. An accurate specimen check system is provided for accurate embedding. Pime-C loads separately by matching cassette and slide types and esignating avariety of styles in the same set type and avail able colors using several trays.